General James Butterworth at Defence Ministry of Georgia
Thursday, June 5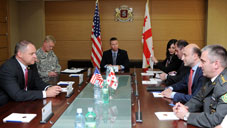 Adjutant General of the Georgian National Guard, General James Butterworth, paid a working visit to Georgia. Deputy Defence Minister Mikheil Darchiashvili hosted the U.S. delegation led by General James Butterworth. First Deputy Chief of General Staff of the GAF, Colonel Vladimir Chachibaia and Commander of National Guard, Colonel Levan Gamkrelidze attended the meeting as well.
At the meeting the sides discussed bilateral cooperation issues. The Deputy Defence Minister delivered information to the U.S. delegation about the fulfilled and ongoing reforms in the Georgian defence sphere. The 20 year-long cooperation program between the National Guard of the state of Georgia and the Georgian Armed Forces was one of the topics at the meeting. Mikheil Darchiashvili expressed gratitude to General Butterworth for the support. The sides talked about future cooperation plans as well.
The sides also referred to Georgia's foreign policy priorities and NATO integration prospects. The regional security environment and Georgia's contribution to global security were also discussed at the meeting.
General Butterworth positively evaluated the reform carried out in the Georgian defence sphere. He expressed support for Georgia's sovereignty and territorial integrity, as well as Georgia's aspiration to Euro-Atlantic membership. The U.S. General also expressed his gratitude to the Georgian side for its contribution in the international peacekeeping missions.