PM Gharibashvili holds second meeting with journalists
By Ana Robakidze
Thursday, June 5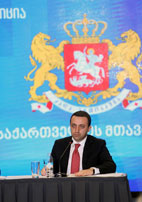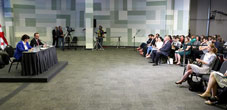 "We are steadily continuing the development of our country," Georgian Prime Minster Irakli Gharibashvili said at the meeting with the media. Speaking about his cabinet, the PM said the government did a great job in the last 18 month and all projects pre-announced before the election in 2012 will be finalized shortly.
"All promises will be fulfilled within the four-year period. What we did within just 18 months was unprecedented, and we managed to do it because of the correct distribution of budgetary resources," Gharibashvili said. He cited increased pensions, social aid and IDP allowances, as well as available medical services as an example of his cabinet's success.
Responding to a question about the alleged tension between him and President Giorgi Margvelashvili, the PM said they maintain an absolutely normal relationship and it is time for everyone to end such speculation.
"There is no tension and especially no personal tensions. We have a healthy relationship. These conversations and speculations are again fueled by the United National Movement, and it is promoted by a variety of media outlets," Gharibashvili said.
According to the PM, his government was very successful in international relations. Gharibashvili especially looks forward for the NATO summit in Wales. However, he is not going to give people false expectations about NATO's Membership Action Plan (MAP), which many hope will be granted to Georgia in September.
"We said that we will not speak about the results in advance. We prefer to wait, and in the meantime carry out active foreign policy. The final results will become known later…The Wales summit will be held in September. Before the summit I do not deem it wise for the head of government to make predictions and to create expectations in the public. This would be a poor policy," the PM stated.
The PM is confident that his government will achieve success in relations with Russia. Replying to the question about Russia-Georgian relations, Gharibashvili said the relationship between the two countries has improved. Georgia supports direct dialogue between the countries and the PM is even ready to meet Russian President Vladimir Putin. However, it will take time and a lot of efforts to prepare the meeting.
This was the second meeting with journalists Gharibashvili held since taking the PM's office. The event was open for Georgian, as well as foreign media representatives.