Minister of Defence delivered speech at Georgian-German Strategic Forum
Thursday, June 12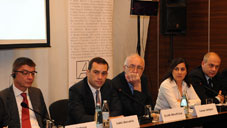 The 3rd Georgian-German Strategic Forum was held in the Hotel "Radisson Blue Iveria." The representatives of Georgian and German executive and legislative authorities and non-governmental organizations participated in the meeting organized by Konrad Adenauer Foundation and Atlantic Council of Georgia.
Today Minister of Defence has opened the forum. In his address Irakli Alasania underscored a current cooperation between Germany and Georgia.
While delivering a speech at the forum, Minister stressed the need of further developing defence partnership between Georgia and Germany. He thanked the German side for the assistance provided in the development of NCO Training Centre. Irakli Alasania also drew attention to the enhancement of defence capabilities of Georgian army, regional security environment and Germany`s support towards Georgia`s NATO integration.
The workshop participants focused attention on German-Georgian strategic visions and interests, security in the region, conflicts` resolution and Georgia`s Euro-Atlantic aspirations. The sides also emphasized the support rendered by the German side in the reforming process of Georgia and discussed strategic cooperation perspectives.
Irakli Alasania held a bilateral meeting with German Bundestag members Karla Lamers and Andreas Schockenhoff.
The goal of the strategic forum is to develop a semi-formal platform in the format of regular dialogue between the governmental and non-governmental institutions working on foreign and security issues. Within the frames of the forum, recommendations were elaborated on foreign and security aspects as well as for holding joint researches and educational events.