Georgian-US Joint Exercise
Thursday, June 12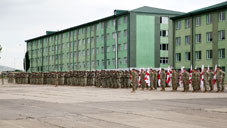 The official opening ceremony of the Georgian-US joint exercise "Agile Spirit 2014" was held in Vaziani, on the military base of the IV Mechanized Brigade today. Deputy Defence Minister Mikheil Darchiashvili opened the solemn ceremony. Deputy Chief of General Staff of GAF, Brigadier-General Vladimir Chachibaia, National Guard Commander, Brigadier-General Levan Gamkrelidze and the leadership of GAF attended the event.
The brass band of National Guard performed the state anthems of Georgia and the United States of America. Participants of the military exercise and invited guests held a minute of silence to honor the memory of the Georgian servicemen fallen in fight for territorial integrity of Georgia and in international missions.
Up to 350 military servicemen of the U.S. Marine Corps Black Sea Rotational Forces and the 42nd Battalion of the IV Mechanized Brigade of GAF take part in the joint exercise. The exercise includes staff and field trainings. Along with the U.S. military, IV Mechanized Brigade personnel are involved in the staff training. The second part of the exercise includes field trainings.
Participants of the military exercise will be trained in search and control, detecting IEDs, clearing the operation area from the insurgents, patrolling, fire exercise, etc.
The military exercise "Agile Spirit 2014" is conducted in Georgia for the fourth time and aims at enhancing interoperability during peacekeeping operations between the military units of the two countries. This year military servicemen from Turkey, France and Romania will take part in the exercise with the observer status.
Military exercise will be held in three phases. The active phase of the trainings will end on June 19.