Georgia is not asking for missile defense systems
By Ana Robakidze
Thursday, June 12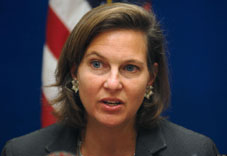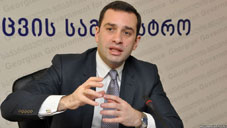 The United States of America is not going to deploy its missile defense systems either in Georgia or in Ukraine.
Victoria Nuland, the US Assistant secretary of state for European and Eurasian affairs, denied the rumors and said on June 10 that the U.S had no plans on expanding its missile defense systems in Eastern Europe. She confirmed that Washington had been financially supporting Ukraine with its reforms and no other type of assistance is going to be provided in the nearest future.
"The United States was ready to allocate around $48 million to Kiev for economic stabilization, enhancing the fight against corruption, constitutional reform and the strengthening of national security," Nuland said at her briefing in Kiev. On June 4, the White House announced that President Barack Obama had approved more than $23 million in security assistance to Ukraine since early March.
According to Georgian Defence Minister Irakli Alasania, his country is in need of stronger security, but it has never asked for missile defense systems.
"I would like to clarify it once again, we are talking about self-defense system and it does not have anything to do with an anti-missile system. This is defense system that is a priority of the Georgian Armed Forces. We have already achieved significant progress in the talks with our partners and I very much hope that it will have a successful outcome very soon. The deployment of the air defense systems to Georgia aims to improve the national airspace management capabilities," Alasania said at the briefing held after the meeting with his Albanian colleague. He confirmed that the Georgian side is holding consultations regarding the issue.
The North Atlantic Council meeting was the first NATO event the Georgian Defense Minister urged the alliance to deploy U.S. defense systems in Georgia, as well as in other aspirant countries of the alliance. His words were misinterpreted numerous times by international, as well as Georgian officials, who believed the minister was asking the alliance to place in Georgia the missile defense system similar to the one U.S deployed in Poland.