PM: Low turnout indicates trust
By Tea Mariamidze
Thursday, June 19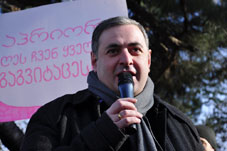 Prime Minister Irakli Garibashvili summarized the final results of the local elections on June 17. The PM stressed that the low turnout of the elections was presumably caused by the "overwhelming trust of the population of the coalition."
He stressed that the coalition managed to hold truly transparent and democratic elections and confirmed that the Georgian Dream is the only and non-alternative political power in the country.
The Prime Minister emphasized that 6 opposition parties will be represented in various city halls. "This is a victory for democracy," Gharibashvili said.
The United National Movement responded to Prime Minister by saying that the UNM is the main opposition party in the country and that Georgian Dream is illustrating false figures.
"The main opposition party is the United Movement and if the Georgian Dream sees a different reality, they may continue living in their self-satisfaction," UNM MP Goka Gabashvili said.
The UNM calls the PM's statement on regarding the low turn-out cynical.
Analyst Soso Tsiskarishvili believes that the government has serious problems in terms of PR. According to him, the non-stop propaganda from the government side as if the coalition had no alternative and their candidates would be winners anyway, made a negative influence on the public mood.
The analyst shares the vision that the elections were a step forward for Georgia's European path.