Step forward to democracy
By Messenger Staff
Monday, June 23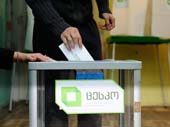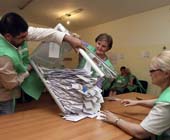 Georgia's June 15 local elections were overall positively assessed by observers. The fact that a second round of elections will be held is also considered a positive move towards democracy. The positive remarks made by the international and national observers are particularly appreciated just ahead of the signing of the Association Agreement between Georgia and the European Union, scheduled to take place in Brussels on June 27th
However, it is has been admitted as well that there were some shortcomings during the election process and the Georgian Dream admits it. The government agrees that there were a number of errors in the election process that has to be fixed.
The Georgian Dream does not hide its pride of arranging and conducting democratic elections. The representatives of the government consider that the necessity of the second round shows that there were no manipulations in the election process. There was also only a moderate number of voters that turned up at the polling stations. This means there was no specific pressure on the population to force people to arriver at the polling stations. All this means that the government and the officials were not interfering in the election process. Though it should not be ignored that certain violations did take place, which has to be overcome for further improving the level of democracy in the country.
One shortcoming is imperfection of the election code. Initially the code was tailored according to the demands and necessities of the United National Movement. The election code was cooked with the final goal to secure UNM leadership in the country for longer possible terms. However, some of the analysts criticize the current administration saying that it did not take necessary steps to change the election code in due time. However, the fact itself that the election code is criticized is already encouraging enough, so the country is in standby mode because of the second round of the self-government elections. Most analysts believe the Georgian Dream has many advantages in the second round. First of all, the simple majority of the participants will be enough for the coalition to win the elections. Besides, it is unlikely that the Georgian Dream will manipulate the election process. As this would destroy the established opinion about the first round of polling and this is not in the interests of the Georgian Dream.