Former Tbilisi Mayor charged with embezzlement
By Ana Robakidze
Tuesday, July 1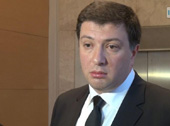 Gigi Ugulava, the former Mayor of Tbilisi, and one of the leaders of the United National Movement (UNM) opposition party may face imprisonment from 7 to 11 years. He has been arraigned with the charge of misappropriation or embezzlement, citing article 182 of the Criminal Code.
The former mayor is accused of granting exclusive privileges to C.T. Park, the company in charge of regulating parking in Tbilisi. According to the Investigation Service of the Ministry of Finance, when serving as the capital city's mayor in 2009 and 2011, Ugulava ignored Georgian legislation regarding the central budget and issued an order granting additional privileges to the City Park Company, which lead to the supposed misappropriation of GEL 1,086,718 GEL from the state budget.
Ugulava was summoned to the Investigation Service of the Ministry on June30th. He arrived at the ministry along with his lawyer and supporters from his party UNM. He told journalists he had never been informed about the case or what he should be interrogated about. Ugulava complained he had to postpone his trip abroad because of his being summoned by the Ministry.
"I do not know what they want exactly. They violated a moratorium imposed by them earlier. This could be explained by their fear regarding the second round of elections. Look at yesterday's re-elections; we won the precincts in which we were interested, I mean Batumi and Khoni. I also relate my questioning to the fact that my speech was scheduled at the Council of Europe Regional Assembly about the election violations," Ugulava said upon his arrival.
UNM members condemned Ugulava's interrogation by the Ministry of Finance. They believe the government is continuing to put pressure on its opponents and Ugulava is a victim of political persecution. With the slogan "In Europe without political oppression", the party plans to organize a demonstration in front of the State Chancellery and protest various investigations launched by the government.