What can Russia do?
By Messenger Staff
Tuesday, July 1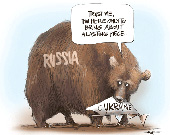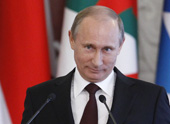 Most politicians and analysts in Georgia still express their confidence that Russia will take some unacceptable steps following Georgiaís signing of the association agreement. Georgians are discussing several punitive moves they could do, such as an embargo on our products or exerting negative actions in the Georgian breakaway regions. Currently, though, Russia is keeping calm.
Georgia signing the AA does not damage Russiaís economic interests. However, signing the agreement signals a political failure of the Federation, as through the document Georgia has been able to go far from the Russian sphere of influence. Russia continuously talks about the Eurasian Union, using it to balance the EUís influence in the region. The Federation has already forced Armenia to participate in the structure. Russia is putting the pressure on Azerbaijan as well.
Moscow has several times warned Georgia to reconsider its economic policy, meaning making a choice between Russia and the EU. After Georgian Dream took office, Russia has permitted Georgian products to re-enter its market, which was a positive move in the restoration of the two countriesí relations. Repeating the previous sanction on Georgian products will be a blow to our economics. When Russia announced an embargo in 2006, Georgia managed to survive through finding alternative markets. However, Russia is the biggest market for Georgia and the step seriously affected Georgia.
After signing the AA, Russian Foreign Minister Sergey Lavrov stated that Russia was ready to undertake consultations with Georgia, Moldova and Ukraine for deepening economic ties. Of course, Moscow is acting in favor of its own interests.
Currently Russia is considering the issue of integrating Georgian breakaway regions into the Russian Federation. Both these entities are intending to hold a referendum over the issue. Now it is up to Moscow to decide how the process might develop. Crimea is an important area for Russia, however, South Ossetia and Abkhazia are just levers. If the Kremlin decides to do the same with the de-facto independent regions, it will further damage its international image. Moscow seems to be taking more civilized steps. It will support pro-Russian forces inside the country and use them for its aims.