Kublashvili accuses Minister of Justice of pressuring judges
By Ana Robakidze
Monday, July 7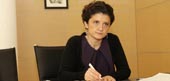 Chairman of the Georgian Supreme Court, Kote Kublashvili accused the Minister of Justice in putting pressure on Georgian judges.
On July 4, Minister of Justice, Thea Tsulukiani spoke about the judges working on criminal cases and questioned their professionalism.
"The fact that Georgian judges, especially those working in the criminal court, lack competence is not a secret," Tsulukiani stated. She said the previous government had "enslaved" judges.
"Judges gained freedom and independence October 25th, 2012, when I was appointed Minister of Justice and when Bidzina Ivanishvili became the head of the government," the Minister of Justice said, adding that now it is up to the judges and their professionalism. She believes Georgian judges now need enough knowledge of their field to catch up with the independence they have been granted. Tsulukiani said the government continues with judicial reform and when the legislation amendments are over, Georgian judges will be selected according to their competence. The minister also named several judges she believes that do not have enough professionalism to represent the Georgian judiciary.
"I always emphasize that I welcome any statement made by the representatives of the government or legislative body that concern the independence of the court or its decision, regardless of how unpleasant the statement can be for some people. However, the statement made by the minister was once again an expression of pressure on Georgian judges," Kublashvili said, when speaking to the media in Batumi. The head of the Supreme Court is not going to stay aside if the minister maintains her attitude towards the court.