Iran electricity exports up by 12.4 percent
Monday, July 7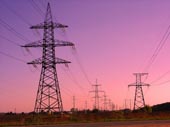 Iran exported 3,214.9 gigawatt hours of electricity to its neighboring countries in the first quarter of the current Iranian calendar year
The figure shows a 12.43 percent increase compared to the same period of time of the previous year, Iran's IRNA News Agency reported on July 4.
Deputy Energy Minister Sattar Mahmoudi said in November 2013 that Iran annually exports 8 billion kilowatt hours of electricity to neighboring countries.
"The mentioned figure is about 3 percent of the country's total output," the ILNA News Agency quoted Mahmoudi as saying.
"Iran is currently among the world's top countries in regards to electricity control and transmission," he said.
Mahmoudi went on to note that Iran's production capacity has surpassed 70,000 megawatt hours.
"Iran has electricity ties with all the neighboring countries," he said, adding that Tehran eyes to export electricity to Europe via Armenia, Russia, and Azerbaijan.
"Iran has the potential to become an electricity hub in the region," he concluded.
Iran seeks to become a major regional exporter of electricity and has attracted more than $1.1 billion in investments for the construction of three new power plants.
Iran currently trades power with Turkey, Armenia, Turkmenistan, Azerbaijan, Pakistan, Afghanistan, Syria, and Iraq.