Georgia exports construction materials to Azerbaijan almost $30 million
Monday, July 7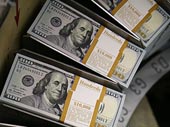 The export volumes of steel reinforcement from Georgia to Azerbaijan rose by 2.2 times a year, both in quantitative and monetary terms, according to the "GeoStat" (National Statistical Service of Georgia) report on foreign trade.
Azerbaijan imported 48,460 tonnes of reinforcement in the amount of $29.86 million in January-May, which is 2.2 times or 26,600 tonnes more than the same period last year, the report said.
For comparison, 21.860 tonnes of reinforcement worth $13.72 million exported from Georgia to Azerbaijan in January-May 2013.
The specific weight of the this category of goods in total volume of the Georgian exports amounted 12.42 percent.
Goods worth $ 240.42 million were exported from Georgia to Azerbaijan in January-May 2014. The export to Azerbaijan decreased by 10.38 percent compared to the same period in 2013. For comparison, Georgian goods worth $268.26 million were exported to Azerbaijan in January-May last year.
(trend.az)