European Court sides with Georgia
By Messenger Staff
Monday, July 7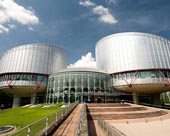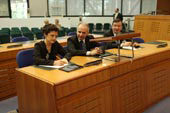 Georgia won the case against Russia in the European Court in Strasbourg (ECHR) on July 3. The court ruled that Russia violated several articles of the European Convention of Human Rights in the process of the mass deportation of Georgian citizens in the fall of 2006. It should be noted that since creating the human rights protection court in 1959, the court studied 16 inter-state claims and made the final decision in only three of them: Ireland vs. Great Britain in 1978, Denmark vs. Turkey in 2001 and Cyprus vs. Turkey in 2001.
Georgia submitted its complaint towards Russia on March 26, 2007. The relations between the two countries were very tense in those days and Georgia complained that Russia abused the rights of Georgian citizens while deporting them from its territory. Georgia claimed that the Russian state discriminated and violated the rights of Georgian citizens in selecting them by their ethnicity. This was carried out in an insulting and humiliating manner. Around 130 individual cases were presented to the court. Several people died during the deportations, because of heart attacks and lack of medical care. While deporting Georgian citizens, Russia used cargo planes, ignoring security standards and any basic comfort.
Since submitting the claim to the Strasbourg court, the Russian side tried to put pressure on the Georgia on several occasions, to make it to withdraw the complaint from the court.
Georgian Minister of Justice Thea Tsulukiani promised to make public the names of the people who were putting pressure on her concerning the case. She said she would do this when she is not a member of the Georgian government any more.
The decision of European Court is welcomed by the Georgian side, which submitted yet another claim against Russia concerning the August 2008 invasion of Georgian territories and the human rights violations there.
According to the courtís decision, the Georgian and Russia sides are given 12 months to negotiate the amount of financial compensation which Moscow has to pay.
Some analysts think that Moscow will ignore the decision of the court, so Strasbourg will have to make a decision on the amount of compensation itself.
Georgia is at a crossroad right now concerning its relations with Moscow. On one hand it does not want to irritate its neighbor, and on the other hand, it is obliged to protect justice. Georgian officials believe that Russia-Georgian relations should start from blank slate and move forward from there. However, this is a very difficult task as 20% of Georgian territory is occupied by Russia. Much will depend on the results of the hearing over the second case concerning the abuse of human rights during the war in 2008.