TSU hosted a First Georgian language banking book presentation
Tuesday, July 8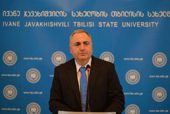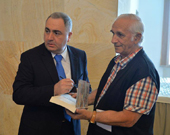 Tbilisi State University hosted a presentation of a book - Modern Banking: Theory and Practice written by university professors: Irakli Kovzanadze and Gogi Kontridze on July 1. The 548-page book is ideal for students – both Bachelor and Master's programs - as well as for faculty members and practitioners. According to the authors, the book will also help scientists, researchers, economists, practitioners and bankers deepen their knowledge of the banking sector.
At the presentation Irakli Kovzanadze, who is also the CEO of the Partnership Fund, the state-owned shareholding company, said that the need to write a book with his colleague was prompted by many years of banking practice and teaching experience. "The work is based on the bank's international and domestic experience," he said.
Giorgi Kvirikashvili, the Minister of Economy and Sustainable Development, who also attended the presentation ceremony congratulated the authors and highlighted the importance of the book. The authors promised that time to time the content will be updated and re-published.