Run-off election looms
By Messenger Staff
Tuesday, July 8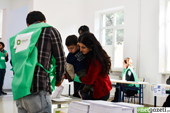 Georgia's run-off elections are scheduled for July 12. The stakes are quite high. Eight mayors out of 12 should be elected in the second round as well as 13 heads of the local municipalities. The run-off became necessary because the Georgian Dream coalition agreed to the demands of the civil sector concerning the 50% threshold. Under the previous government, winners were revealed through the 30%+1.This is more proof that the Georgian Dream coalition is moving towards a constructive, democratic society. Despite several obstacles, the Georgian Dream is leading the run-offs in all regions and cities. So far, the opposition has not been able to unite their efforts to change the election climate. In the second round the 50% threshold will not apply, obtaining the majority of votes will be enough.
Much controversy emerged regarding the date of the second round of the elections. The United National Movement (UNM) wanted to delay the run-off as long as possible so that the candidates would have enough time to carry out their election campaign.
July 15 was proposed as the run-off date. However, the CEC decided by 7 votes against 5 to hold the run-offs on July 12.
The situation prior to the final elections in the capital became very tense. The reason was the detention of the former Mayor Gigi Ugulava and his pre-trial arrest. He was the head of the UNM election campaign. Therefore, UNM representatives claim the government aimed to cause problems for the opposition party with this detention. However, the Georgian Dream representatives stress that the detention of the former mayor was up to law-enforcement bodies and there would be serious evidence against Ugulava.
The run-off elections will be held in Tbilisi, Batumi, Rustavi, Poti, Gori, Mtskheta, Ozurgeti and Telavi; in the municipalities of Kvareli, Telavi, Akhmeta, Tianeti, Terjola, Khoni, Tkibuli, Baghdati, Gori, Lentekhi, Martvili, Khulo and Kobuleti.
In all 8 cities, the Georgian Dream representatives received most of the votes. However, they did not receive more than 50%. In 4 cities out of 8, the UNM candidates ran second.
If the opposition parties use commonsense, they would unite their efforts and back a single candidate in order to defeat the majority representatives. However, based on previous experience, this is unlikely to happen.