Georgia does not expect problems in trade relations with Russia
By Ana Robakidze
Wednesday, July 9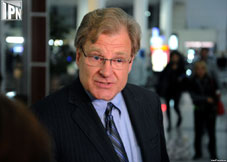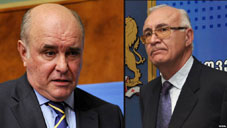 US ambassador to Georgia, Richard Norland believes Georgia should not expect any threats from Russia ahead of the ratification of the Association Agreement (AA).
"From everything we've heard, there should be no contradiction between Georgia signing the Association Agreement and its trade relationship with Russia. I believe the working group is meeting today between the two governments to examine the details of this. I don't see why anyone should interpret that as a threat; and if it is a threat that's unfortunate," Norland said on July 7, commenting on the Russian Prime Minster Dmitry Medvedev's recent statement. While speaking to his vice-premiers on July 7, Medvedev said Russia might review economic relations with Georgia and Ukraine and possibly take "protective measures" if the countries ratify AA they signed in June.
The future of Georgia-Russian trade relations was discussed in Prague on July 7. Experts from both sides discussed the possible problematic issues that may appear in trade relations. A meeting of experts was initiated by the Russian side, which was presented in the Prague by the Ministry of Economy. The parties spoke on various issues, but the topic of the possible sanctions from the Russian side was not raised.
"There are issues we deem to be problematic in your trade-economic relations. In the end we agreed to continue our consultations and talks about various risks," Head of the Russian delegation Alexander Tsibulski said in Prague. He strongly supports the idea of holding meetings of a similar format in the future.
The trade relations will be the major topic of the meeting between Georgian PM's Special Representative in Relations with Russia, Zurab Abashidze and Russian Deputy Minister of Foreign Affairs Gregori Karasin. The talks are planned to take place on July 9 and it will be the seventh meeting within the scope of special Georgia-Russia dialogue.
The Georgian side does not expect any major problems to occur after the parliament ratifies the AA. However, the government will remain cautious as Russian politics can be unpredictable.
According to Georgian President Giorgi Margvelashvili's adviser on foreign relations, Tengiz Pkhaladze, Georgia must avoid committing the same mistakes with its neighbor as they did previously.
"I think we must expect any scenario from Russia and be ready for it. We must not repeat the mistakes of the past. You remember the events of 2006, when the country's economy was seriously hit by the embargo imposed by Russia," Pkhaladze said. He believes the diversification of the economy is the wisest option for Georgia.