The News in Brief
Wednesday, July 9
President appoints Georgia's Ambassador to the UK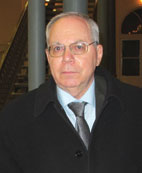 Georgia has a new Ambassador to the United Kingdom.
President Giorgi Margvelashvili approved Revaz Gachechiladze, a Tbilisi State University Professor and former Ambassador of Georgia to Israel and Armenia, to the role today.
Gachechiladze will also serve as Georgia's permanent representative to the International Maritime Organization (IMO), which is headquartered in London.
During his career Gachechiladze worked at Georgia's Foreign Ministry for many years. He also led the sociological research center of the Georgian National Academy of Sciences.
He is a visiting Professor at Oxford University and an honorary foreign member of the London-based Royal Geographical Society.
The post fell vacant after the Government changed in Georgia. Tamar Kapanadze served as Charge d'Affaires before the new Ambassador was appointed.
(agenda.ge)
Georgian Parliament Speaker Meets Azerbaijani Leadership in Baku
Georgian parliamentary delegation, led by parliament speaker Davit Usupashvili, met Azerbaijani President Ilham Aliyev and other senior officials in Baku on July 7.The delegation also met speaker of the Azerbaijani Parliament Oktay Sabir Asadov, as well as Prime Minister Artur Rasizade and Foreign Minister Elmar Mammadyarov. After meeting his Azerbaijani counterpart, the Georgian parliament speaker said that the two sides have once again reiterated "very good" bilateral relations between Georgia and Azerbaijani. "But it was also noted that lot of work has to be done to make these relations even much better especially against the background of fast-changing situation in the region and in the world in general, significant events are taking place which should be responded by the two countries through close cooperation in order to avoid new threats if such threats emerge and use new chances, whenever such chances emerge," Usupashvili said. He also said that Georgia and Azerbaijan "are natural partners" especially in the condition when both Europe and Asia are seeking for alternative transit routes. "We have discussed new plans and projects, which might be of special interest for the both countries," Usupashvili said. "We also understand that these are not only economic projects and that these projects are directly related to countries' security and stability."He said that the Georgian lawmakers had "a very warm meeting" with the Azerbaijani President. Usupashvili said that President Aliyev is willing "to further deepen" cooperation with Georgia. The Georgian parliamentary delegation, which is visiting Baku, also includes lawmakers from the GD ruling coalition, vice-speaker Zviad Dzidziguri; chairman of foreign affairs committee Tedo Japaridze; chairman of sector economy committee Zurab Tkemaladze; chairman of committee for diaspora and Caucasus issues Gubaz Sanikidze; Makhir Darziev and Ali Mamedov, as well as MP Kakha Okriashvili, chairman of independent majoritarians factions. Before meetings with the Azerbaijani leadership, the Georgian parliament speaker told journalists in Baku that signature of the Association Agreement between Georgia and the EU will lead to certain changes in Georgia's "legislation field", but it will "not influence our relations with Azerbaijan.""But we want to discuss all these issues in details so that to make all the changes smoothly so that the both countries could benefit from it," Usupashvili said.
(civil.ge)
Irakli Gharibashvili to deliver a speech at the 69th session of UN General Assembly in New York
Prime Minister Irakli Gharibashvili will deliver a speech at the 69th session of the UN General Assembly in New York.
According to the Prime Minister's press office, Irakli Gharibashvili will address the General Assembly on September 26.
Apart from delivering a speech, the Prime Minister will hold bilateral meetings in the United States. It is planned for the PM to meet with the United Nations Secretary-General Ban Ki-moon. Within the UN General Assembly, the Prime Minister will attend a special session about the implementation of an action programme of the population and development international conference. Gharibashvili will also attend a summit on climate change and a plenary session - World Conference on Indigenous People. Within the framework of the UN General Assembly, the Prime Minister's wife is invited to the first ladies' world conference "First Ladies' Global Call to Action Conference on Women and Girls' Financial Health".
In New York the Georgian Prime Minister will also attend the opening of a Georgian Film Festival at the Museum of Modern Art on September 2 and will deliver a speech there.
Irakli Gharibashvili will leave for New York along with a governmental delegation on September 22.
(IPN)
Karasin comments on ECHR judgment
Russian deputy minister of foreign affairs Gregory Karasin has made first official comment on the judgment of the European Court of Human Rights, where Georgia won the lawsuit against Russia after seven year long discussions.
Gregory Karasin recollected the period, when Georgia filed law suit at the Strasburg Court and said it happened when Georgia was obsessed with anti-Russian hysteria run by Saakashvili`s government permanently. According to the Russian diplomat, the goal of president Saakashvili then was to end the friendship of the Georgian and the Russian peoples. He also said Georgia tried to affect the interests of Russia by launching proceedings against Russia, while the anti-Russian campaign reached its climax in 2008, when Saakashvili started his military campaign that in its turn affected Georgia most of all.
"But the Georgian people succeeded to get rid of this regime in the elections in 2012-2013 and elected the forces, which supported the improvement of relations with Russia," Karasin was quoted by Russian news agencies.
(Rustavi 2)