US Director of State Department Caucasus Desk visits MoD
Thursday, July 17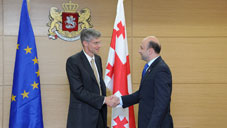 Director of State Department Caucasus Desk John Mark Pommersheim pays a working visit to Georgia.
Deputy Minister of Defence Mikheil Darchiashvili met with the US delegation members. At the introductory meeting the sides referred to the relationship between the two countries within the framework of the US-Georgia Charter on Strategic Partnership. During the conversation Mikheil Darchiashvili drew attention to the issues like Georgia's democratic development, integration into the NATO and EU, bilateral defence cooperation, Georgia's engagement in international missions and a regional security environment. Deputy Minister also talked of the outcomes of the upcoming Wales Summit.
Mikheil Darchiashvili thanked John Mark Pommersheim for his support demonstrated towards Georgia's territorial integrity and its Euro-Atlantic aspirations. The meeting in the MoD was attended by the Chief of Political and Economic Affairs at the U.S. Embassy in Georgia Victoria Taylor, US Defence Attache in Georgia Matthew Dimmick and the MoD representatives.