Turkey denies oil sales to Israel
Tuesday, July 22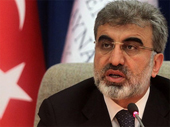 The Turkish government has rejected claims it sold jet fuel or gas to Israel, Turkey's Energy Minister said on Sunday in Turkey's southern province of Adana, Anadolu Agencyreported.
Turkey's Energy Minister Taner Yild?z refuted the claims made to the contrary by some media organizations last week.
"Israel's occupation of Gaza is a serious obstacle to the development of energy projects in the East Mediterranean Region," he said. He, however, confirmed some firms use Turkey as a transit route for transporting oil to Israel.
(trend.az)