SOCAR and Goldman Sachs reach preliminary agreement on share sale
Tuesday, July 22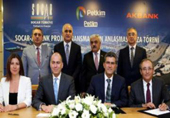 SOCAR and Goldman Sachs have reached a preliminary agreement on share sale.
U.S. multinational investment banking company Goldman Sachs has become a partner in Turkey's largest integrated port, operated by petrochemicals maker Petkim, in a deal that will boost the company's plans to develop the port to make it largest of Aegean region, Hurriyet Daily reports.
Petkim has announced that it has reached a preliminary agreement to sell its 30 percent stakes in Petkim Limanc?l?k (Petlim) for $250 million, after months of talks that started in February this year.
Petkim and Petlim are controlled by the Turkish branch of Azeri energy giant Socar. Petlim was founded to deal with the economic operation of Petkim's port in the Aliaga district of the Aegean province of Izmir.
"One of the world's biggest investors becoming a partner to our port company means approval of the value and economy of our project," Socar Turkey President Kenan Yavuz said, speaking after a ceremony to mark the signing of the deal as well as a preliminary financing agreement with Turkish lender Akbank for the port project.
"We have signed a preliminary agreement for our port investment's project financing with one of Turkey's largest banks Akbank. We will secure $211 million in financing with a 13 year maturity within the term-sheet," Yavuz said.
"We're very glad to realize the share transfer deal with a global giant such as Goldman Sachs and the project financing agreement with Akbank on the same day," he added.
The investment, which will become Turkey's third container port, will become operational in the last quarter of 2015, Yavuz also said.
The Petkim Container Port, which for the first time in Turkey will enable the berthing of ships with 11,000 TEUs, will possess a starting capacity of 1.5 million TEUs. A logistic field with a total of 48 hectares will be created, with 42 hectares in the port field for container storage and 6 hectares in the rear service area.
Socar Turkey also plans to build a refinery on the Petkim Peninsula with the aim of integrating refinery, petrochemical and logistical operations at the site.
The company is building the $5.5 billion Star refinery in partnership with Turcas Petrol to supply feedstock to Petkim and cut Turkey's dependence on imported refined products.
Socar Turkey signed a $3.3 billion credit deal for the refinery in June, marking Turkey's largest and longest-term financing deal for its first privately built oil refinery.
(News.Az)