Abkhazia holds presidential elections
By Ana Robakidze
Monday, August 25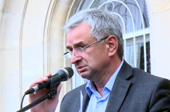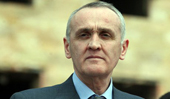 Georgia's breakaway region of Abkhazia held snap presidential elections on August 24th. The election had to be held after the former de-facto President Alexander Ankvab was forced to resign due to mass street protests in his opposition.
The Georgian Ministry of Foreign Affairs says the Abkhazian election is yet another unsuccessful attempt of disguising the ethnic cleansing of hundreds of thousands of people by elements of ostensible democratic governance.
"The so-called presidential elections illegally held in the occupied Abkhazian region on the 24th of August 2014 represent total disrespect and neglect of the fundamental principles of international law, in particular, the principle of sovereignty, territorial integrity and the inviolability of internationally-recognized borders," the MFA says in an official statement released on August 24th. The ministry called on the international community to condemn the presidential elections unlawfully held in the Abkhazia.
The Abkhazian election commission registered four candidates and 132,861 voters for the snap elections.
Raul Khajimba, opposition leader and former KGB officer is the major challenger to take the de-facto president's office. He has always been highly supported by Moscow. However, he still lost to Sergei Bagapsh in the 2004 presidential election. Also, Khajimba's political views have changed recently. From a strict pro-Russian politician he turned into a "pro-Abkhazian", questioning the region's relations with Moscow and leaning towards more independence from Russian influence.
Other candidates running for president are:
• Mirab Kishmaria, former officer of the Soviet Army and one of the field-commanders in The Georgia-Abkhazian war. He served as Defense Minister in 2007.
• Leonid Dzapshba, former Minister of Internal Affairs.
• Aslan Bzhania, also a former KGB agent, who returned to Abkhazia in 1992 to work in the State Security Service. In February 2010, he became the head of the State Security Services in Abkhazia.
154 polling stations were opened across the region, an additional three stations were opened abroad, in Moscow, Istanbul and Cherkessk. According to local media sources, around 24 countries had sent their representatives to monitor the August 24th elections in Abkhazia.