Poroshenko: Ukraine facing "great war"
By Ana Robakidze
Wednesday, September 3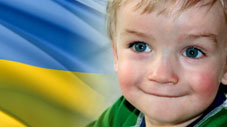 Georgian Foreign Minister, Maia Panjikidze had a phone conversation with her Ukrainian colleague Pavlo Klimkin to discuss the latest developments in the Ukrainian conflict zone. Panjikidze informed Klimkin about the new initiative of the Georgian Prime Minister to bring Ukrainian children affected by the hostilities to Georgian resorts to undergo rehabilitation courses. On his behalf, the Ukrainian foreign Minister thanked Georgian authorities for supporting his country, which has been fighting pro-Russian rebels for several months now.
On September 1, Ukrainian President Petro Poroshenko said Russian support of the rebels radically changed the battlefield. Ukrainian forces had to withdraw from the vital Luhansk airport after the rebels received support from Russian forces.
"Direct and undisguised aggression has been launched against Ukraine from a neighboring state. This has changed the situation in the zone of conflict in a radical way," he said in his speech at a military academy in Kiev.
Crisis talks held in Minsk on September 1, broke up without any agreement. The talks involved Ukrainian and Russian officials, representatives of separatist rebels and the OSCE security forum.
Ukrainian Defence Minister Valeriy Heletey wrote on his Facebook page that a great war is about to break out.
"A great war has arrived at our doorstep - the likes of which Europe has not seen since World War II…Unfortunately, the losses in such a war will be measured not in the hundreds but thousands and tens of thousands," he said.
The Russian government has repeatedly denied accusations that it is providing troops and equipment to the rebels. Russian President Vladimir Putin said during his recent visit to Siberia that Ukrainian government does not make any effort to negotiate with rebels.
"The current Kiev leadership does not want to carry out a substantive political dialogue with the east of its country," Putin said. He also added that Ukrainian forces were firing at civilian targets in the east of the country, therefore separatists had to try and force the troops from their location.
Russian expert Andrei Ilarionov believes the West has not been strict enough and the sanctions imposed on Russia will not be effective enough to change the situation. The expert who visited Tbilisi to participate in an international forum said Russia has to receive an adequate reply from the world, otherwise Georgia or any other country will appear in the same situation with Ukraine.