Breakaway regions still create big problems for Georgia's international integration
By Ana Robakidze
Thursday, September 11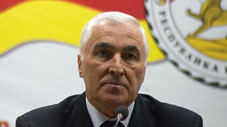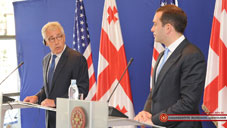 The de-facto Minister of Foreign Affairs (MFA) of South Ossetia, Leonid Tibilov says U.S Secretary of Defense, Chuck Hagel's statement, which calls on Russian troops to leave Georgian territory is alarming. Georgian breakaway region fears Tbilisi may be encouraged to start hostilities in South Ossetia.
Hagel visited Georgia September 7-8. He said the United States continues to call on Russia to fully withdraw its forces from Georgia's borders.
"Russia's actions here and in Ukraine pose a long-term challenge that the United States and our allies take it very seriously. But President Putin's actions have also brought the United States and our friends in Europe, including Georgia, closer together," Hagel said during his visit in Tbilisi.
The S. Ossetian minister says NATO member states are supporting the creation of new dangerous challenges in the Caucasus region, instead of trying to neutralize Georgia's intention to take revenge.
"It is clear that providing Georgia with arms is a part of the NATO-US global scheme. Therefore, the role of Georgia as a marionette (in the game) increases and it becomes even more dangerous," Tibilov said in the statement, adding that the presence of Russian forces is the only guarantee for stability and peace in the region.
The breakaway regions of South Ossetia and Abkhazia remain a major problem for the Georgian government. Many politicians and experts believe having territorial integrity problems is a big obstacle for Georgia on its way to NATO membership.
Georgian analyst Soso Tsintsadze says that considering the current situation, becoming a NATO member is nothing but an illusion for Georgia.
"It is hard to predict what will happen in 10-15 year's time, but Georgia's current prospects to achieve NATO membership is almost zero," Tsintsadze said, speaking to the NewsPress news agency. He believes that the West will try its best to avoid any confrontation with Russia, therefore it will not accept any new members that are in conflict with Russia.
The Georgian government supports peaceful conflict resolution means and restoring relations with Russia. However, Moscow is expected to recognize the territorial integrity of Georgia. Speaking on Rustavi 2 TV on September 9, Georgian President Giorgi Margvelashvili said it is possible to cooperate with Russia. However, respecting the territorial integrity and sovereignty of Georgia is a precondition for future talks.
"We want to build a peaceful and united European space…We want to be recognized by our neighbors in the same way as we are recognized by the world. Georgia does not have aggression against Russia and we are going to unite Georgia by peaceful methods," the president stated.