The President of Georgia attends opening of World Economic Forum
Tuesday, September 30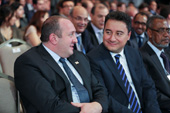 The President of Georgia attended the opening part of the World Economic Forum held in Istanbul, Turkey. The presenter of the event, Professor Schwab expressed his special gratitude to the President of Georgia for his visit to Istanbul and participation in the World Economic Forum and emphasized the importance of the presence of the world leaders at the event.
The keynote address at the forum was delivered by the President of Turkey, Recep Tayyip Erdogan. In the welcome speech, President Erdogan stressed the importance of regional cooperation and focused on the need of joint projects. He outlined the projects successfully implemented by the governments of Georgia, Azerbaijan and Turkey jointly. The President of Turkey has also reviewed the global security, reforms and other economic issues of regional importance.
During his visit to Turkey, Georgian President Giorgi Margvelashvili met with his Kyrgyz counterpart Almazbek Atambayev. After a face-to-face meeting, an expanded meeting was held.
The sides discussed bilateral relations and prospects for intensifying the cooperation in economic and trade fields, the Georgian presidential administration said Sept. 29.
President Margvelashvili said that signing of an association agreement between Georgia and the EU opens up new opportunities to friendly countries in terms of reaching the European market.
The leaders discussed the situation in the region. They paid special attention to economic security.
President Margvelashvili invited the Kyrgyz counterpart to Georgia. President Atambayev accepted the invitation with pleasure.
The presidents of the two countries participate in the World Economic Forum (WEF) in Istanbul.
(Trend.az & Presidentís administration)