EU to ratify Association Agreement in December
By Ana Robakidze
Thursday, October 9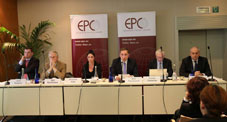 Georgian State Minister for European and Euro-Atlantic Integration Alexi Petriashvili says that the European Union plans to ratify the Association Agreement with Georgia in December.
There is full support at the European Parliament to ratify the Georgia-EU AA deal at the end of this year," Petriashvili said after having held several bilateral meetings at the European Parliament and European Council.
According to the State Minister's office, Petriashvili met with the EU Regional Policy Commissioner Johannes Hahn and with the Chairman of the Committee on Foreign Affairs of the European Parliament Elmar Brok, as a part of his recent working visit to Brussels. The State Minister discussed the future developments of Georgia-EU relations and particularly stressed on the importance of establishing a visa-free regime with the EU countries for Georgian citizens.
At a meeting with the Managing Director of the European External Action Service for Europe and Central Asia Luis Felipe Fernaandez de la Penna, Petriashvili discussed Georgia's EU integration process. The parties underlined the significance of implementing activities envisaged under the Association Agenda. The State Minister expressed his hope that the European Parliament will ratify the Association Agreement by the end of the year.
According to the State Minister's office the discussions in Brussels touched upon the current situation in the region and existing threats and challenges posed to the Eastern Partnership countries. Attention was also paid to the preparations towards the Riga Eastern Partnership Summit in 2015. Petriashvili informed EU officials on Georgian expectations about the future summit and said Georgia expects to deepen relations with the EU and advance on the way to visa free regime with the member states.
Within the framework of the visit, Petriashvili delivered a speech at the event organized by the European Policy Center (EPC). He also participated in the discussion on "Georgia 2008-Ukraine 2014: Implications of the Euro-Atlantic Choice."