Minister: Turkish investments in Georgia to continue
Monday, October 13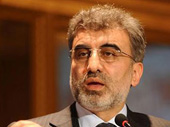 Turkish Energy Minister Taner Yildiz said that investments in Georgia's power generation sector will continue, Anadolu Agency reported.
Two Turkish private companies -- Calik Holding and Ahlatci Group – signed a $500 million deal with the Georgian government Saturday for the construction of three hydroelectric plants.
During the signing ceremony in Tbilisi, the Gerogian capital, Yildiz said, "It is an honor for both Turkey and Georgia that our well-established companies make these kinds of investments."
Yildiz stated that the agreements improved the existing strong ties between the two countries as well.
Georgia has been exporting electricity since 2007, and has sold energy to all its neighboring countries, including Turkey.
Calik Holding's Sadmeli and Alpana hydroelectric power plants -- with a total capacity of 223 megawatts -- will be constructed on Rioni River in the western Racha region. The plants will produce over 1 billion kilowatt hours of electricity annually.
Another plant to be built by Dolra of Ahlatci Group -- with a capacity of 30 megawatts -- will produce 125 million kilowatt hours of electricity annually. Located in the northwestern province of Svaneti, the plant is expected to be finished in 2019 for $50 million.
On Tuesday, Georgia's Deputy Energy Minister Ilia Eloshvili told The Anadolu Agency that Georgia produces more electricity than it needs with its hydroelectric power plants in the summer season and that much of this surplus can be exported to Turkey.
"Turkish companies need to be aware of Georgia's hydroelectric potential," Eloshvili said, adding: "We have very flexible rules governing foreign investments, and this helps to make Georgia a very attractive country for energy investments."
The country produces nearly 85 percent of its electricity from hydroelectricity power plants, according to Georgia's Energy Ministry.
(Trend.az)