Disaster relief center established in Adjara to help flooded villages
Tuesday, October 21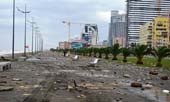 The Georgian Government is taking measures to assist people affected by the flooding in the Adjara region on Georgia's west coast.
A crisis management centre has been established in Batumi to calculate and remedy the damage caused by the weekend's wild weather. The centre will be coordinated by the Emergency Management Department of the Ministry of Internal Affairs.
Heavy rain on Sunday caused the water to rise to unusually high levels in three rivers in western Georgia - the Rioni, Adjaristskali and Khobistskali Rivers in Imereti, Adjara and Samegrelo regions respectively.
Meanwhile flooding affected some houses and agricultural lands. Special units of local municipalities have already been organized in the affected areas.
"I have not seen river Adjaristskali this swollen for ages," Keda Municipality head Davit Dumbadze said, adding the flood caused serious traffic problems on the central road.
A swollen river in Dologani village in Adjara caused a pillar to break along the 20km stretch of Batumi –Akhaltsikhe road, which narrowed the carriageway and motorway.
In the Imereti region, some people were evacuated from their villages by boats as the roads were flooded. There, heavy rain damaged cornfields, leaving locals with no harvest.
In Samegrelo, the Chkhorotsku-Zugdidi central highway was paralyzed following the swelling of the Khobistskali River. Water flooded bridges and energy poles and several villages were left without electricity. There were major infrastructural damages as well.
(Agenda.ge)