Diplomats react to Alasania's dismissal
By Ana Robakidze
Thursday, November 6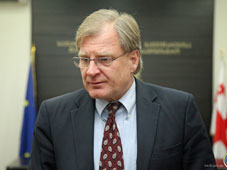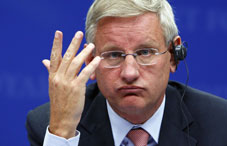 Prime Minister, Irakli Gharibashvili's decision to dismiss Defense Minister Irakli Alasania over the ongoing investigation in the Defense Ministry, has caused an immediate reaction from the politicians and diplomats in Georgia, as well as outside the country.
U.S Ambassador to Georgia Richard Norland says it is a very important time for Georgian democracy and Washington is closely following the ongoing changes in the country's political life.
"I know all the diplomats in Tbilisi, the international community, and Washington, are following all of these events closely. Obviously the composition of Georgia's cabinet and government is a matter for Georgians to decide. However, at a time of regional turmoil and domestic economic challenge, what Georgia needs the most is stability, unity, demonstrated commitment to due process and the rule of law, and public confidence in democratic institutions. We urge all parties to work towards these goals and focus on the future of the country, a country that is firmly anchored in Euro-Atlantic institutions," Norland says, commenting on the recent dismissal of the Defense Minister. The ambassador also mentioned that the increased number and scope of prosecutions of former and current officials raises legitimate concern that the judicial system is being used in a political way.
Former Swedish Foreign Minister Carl Bildt, who has been a long supporter of Georgia's European aspirations, says the political course Georgia had chosen is under risk.
"A serious political crisis is taking place in Georgia. The attack against the Defense Minister ended with his dismissal. The country's course is under threat," Bildt posted on his Twitter account.
"Georgia's pro-West foreign minister quits, and the coalition faces crisis, Reuters news reported. The agency says that just a day after firing Alasania, the Georgian PM faces a growing crisis in his governing six-party Georgian Dream coalition.
The Director of the McCain Institute of International leadership Curt Walker believes Alasania's dismissal from the cabinet is more related to internal political issues, rather than to the general political orientation of Georgia. Speaking to Voice of America, Walker said it looks like there have been tension between Gharibashvili and Alasania for some time now, and as a result, the defense minister had to be sent away from the ruling team.
Walker is also concerned about the way the Prosecutors Office has been carrying out investigations against the former officials of the defense ministry. He does not exclude corruption in the ministry, but believes the main goal of launching the investigation process was to discriminate against Alasania.