Georgia's European course defined
By Ana Robakidze
Monday, November 10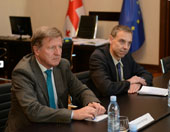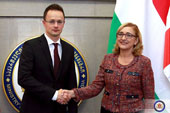 Georgia remains committed to its Euro-Atlantic future and no changes in the country's foreign policy are planned.
Commenting on the dismissal of the pro-Western Defense Minister Irakli Alasania, and the resignation of Foreign Minister Maia Panjikidze, Parliament Speaker Davit Usupashvili said changes in the cabinet will not reflect on the country's foreign policy.
"I remind you that the domestic and foreign policy was defined by Parliament. Also the Parliament has already defined the policy in July 2014 when we endorsed the new composition of the government and the program thereof," Usupashvili stated.
Following the recent changes in the Georgian cabinet, a number of Georgian as well as foreign officials have expressed their concern over the stability of the country's foreign policy.
European Union (EU) Ambassador to Georgia Janos Herman remains confident regarding the Euro-Atlantic aspirations of the country.
"I see Georgia's unflagging European orientation. We have to be oriented on the future, Georgia needs to move forward on the path of getting closer with the EU in a sense for Georgia to be a stable and democratic state… I want to say what has been announced by EU representatives throughout the last period that we are monitoring [the] recent investigation against high officials. The common picture is that Georgia has a steady political course towards Europe and we are intensively working with the Georgian government," Herman said in the statement, released after his meeting with Alasania. The meeting was planned weeks earlier, when Alasania was still holding the minister's position.
Changes in the government do not affect the process of ratification of the Association Agreement (AA).
Minister of Foreign Affairs and Trade of Hungary, Peter Szijjarto announced that his country will ratify the AA with Georgia by the end of the year.
"Hungary's Parliament will ratify the EU-Georgia Association Agreement by 2015 and cooperate with Georgia on effective implementation of the AA agenda," Szijjarto said on November 7, at a joint press conference with Georgia's acting Minister of Foreign Affairs Tamar Beruchashvili.
Speaking at the same press-conference Beruchashvili emphasized the irreversibility of the country's foreign policy and said Georgia shall not change it.