There is no smoke without fire
By Messenger Staff
Monday, November 10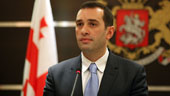 Georgia is a close-knit society. Everyone knows one another and people are always somewhat linked to each other – this holds true even with the political elite.
It is not uncommon that state officials have been in touch since their student years. Reportedly former defense ministers Irakli Okruashvili and Irakli Alasania, as well as the current head of the Supreme Court Kote Kublashvili MP of the Republican Party Tina Khidasheli the head of Constitutional Court Giorgi Papuashvili all were the graduates the same year and from the same law school at Ivane Javakhishvili State University.
This preface was given to provide the reader an understanding of the consequences of such relations. News travels really fast in Georgia, leaving behind many good examples of rumors and gossips.
Word spread quickly among civil society as soon as Prime Minister Irakli Gharibashvili reshuffled the cabinet some months ago. The rumors said Defense Minister Irakli Alasania and Foreign Minister Maia Panjikidze would be the next to leave their posts.
Today, after the defense minister has been sacked, and Panjikidze as well as Alasania's party member now former State Minister of Euro-Atlantic integration Alexi Petriashvili have left their posts, there is room for extra rumors.
Various opinions have emerged on the reason behind such radical changes in the cabinet. The popular version spread by Alasania's supporters is that certain political figures in the country did not want him to continue his activities, as he was becoming more and more popular. Hence, more powerful. Another opinion, hinted upon by some politicians and civil society members says Alasania was going to separate from the ruling coalition and set his own political entity as the third largest political power, following the ruling Georgian Dream Coalition and United National Movement party.
Many believe the motion to remove Alasania from Georgia's unpredictable political scene was premeditated, after the Defense Minister signed the document with his French counterpart on providing Georgia with arms to reinforce Georgia's defense capabilities. The analysts who support this opinion also say that Alasania was dismissed to please Russia. As Alasania is a very consistent pro-western oriented person and his personal contribution to Georgia's Euro-Atlantic aspiration irritates the Kremlin.