U.S Ambassador: Georgia-U.S relations continue to be strong
By Ana Robakidze
Tuesday, November 11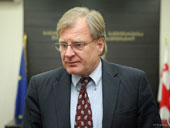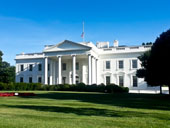 U.S Ambassador to Georgia Richard Norland says there is no doubt that the Georgian -U.S partnership will continue and it will become even stronger.
"It is Monday morning in Tbilisi. I think it is going to be a normal week. The government is obviously going to reconstitute itself. From our point of view it's not about the specifics of the internal government processes of Georgia, which are for the Georgian people to decide. It's about the general direction of Georgia and the quality of our partnership. We have no doubt that this partnership will continue to be very strong and that we are pursuing the same goals in terms of security, prosperity and democracy for Georgia and for the region," Norland said on November 10.
He emphasized that the security of the two countries are strongly linked with each other and both countries share the same goals in terms of security, prosperity and democracy and Georgia will never be left alone in the battle for security and stability in the region.
According to the ambassador, the U.S is quite proud with its partnership with Georgia. "We are talking about very important relations," Norlans stated. He stressed the strong partnership between Georgia and the European Union and said Georgia's borders can become part of the EU borders someday. Therefore it is important to find ways to protect these borders.
The U.S. Embassy launched a six-week course for criminal investigators at the National Police Academy. Based on international best practices, the course will be taught by experienced law enforcement professionals from the United States along with staff from the embassy's various law enforcement-related offices.
According to the U.S embassy, the goal of the course is to train 20 investigators and prosecutors from the Ministry of Internal Affairs, Ministry of Finance, Ministry of Corrections, and the Chief Prosecutor's Office, who will continue teaching the 240-hour curriculum on their own in the future.