Abkhazian MP physically assaulted
By Ana Robakidze
Tuesday, November 18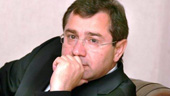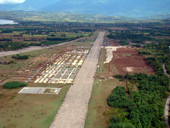 De-facto Prime Minister of the Abkhazian breakaway region, Beslan Butba was attacked on November 15.
According to de-facto interior minister Raul Lolua, Butba and his family were driving in Sokhumi, when a car blocked their way. Two men came out of the car and physically assaulted the MP. Butba who was not accompanied by his security that day, was taken to hospital to receive first aid. He was discharged the same day.
The authorities detained both suspects, who as it appeared later, had a high concentration of alcohol in their blood. The motive behind the physical assault was not made public. However, police reports revealed that the suspects are employees of Abkhazia's Customs Dpartment.
A day earlier, MP Butba signed a preliminary deal with yet another Russian company willing to invest in Abkhazia. Airport Development, the daughter company of one of Russia's largest business groups, Basic Element, will start reconstruction of one of the airports in the region. According to Abkhazian news agency Apsnipress, the preliminary deal between the de-facto government and the company representatives was signed on November 14.
Quoting the PM of Abkhazia, Apsnipress says the airport, which is located outside of Sokhumi, will remain under Abkhazian ownership and control. According to Butba, the investment made by Airport Development will be spent on reconstruction work and the procurement of the necessary equipment.
The final draft of the contract will be prepared within the following three months. It is hard to foresee whether the investment will be successful or not. Airport Development is not the first company to sign an agreement with the Abkhazian government. The memorandum on reconstruction of Sokhumi airport was signed between the government and the Russian company Novaport back in 2011. However, the company never started actual work in Abkhazia.