EY Entrepreneur of the Year 2014 Georgia – Mamuka Khazardze
Tuesday, November 18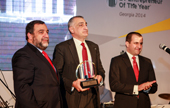 Mamuka Khazaradze, TBC Group, was named the first EY Entrepreneur of the Year Georgia on a Gala Awards Ceremony held in Radisson Blu Iveria Hotel.
2014. EY Entrepreneur Of The Year™ is the world's most prestigious business award and is held in 145 cities of more than 60 countries for 28 years. The program aims to recognize and celebrate outstanding and innovative entrepreneurs who inspire others with their vision, leadership and achievement. In 2014 Georgia joined these countries to award its best entrepreneur.
EY Georgia launched the Program in association with the Ministry of Economy and Sustainable Development of Georgia. The judging panel consisted of Ruben Vardanyan, founder of Troyka Dialog, himself EY Entrepreneur of the Year 2004 Russia and jury member of World Entrepreneur of the Year 2012, Ketevan Bochorishvili, Deputy Minister of Economy & Sustainable Development of Georgia, George Bachiashvili, Executive Director of Co-Investment Fund of Georgia, Devi Khechinashvili, Chairman of the Association of Insurance Companies of Georgia and George Tchirakadze, President of the Business Association of Georgia.
Thanks to the organizers and jury. I think these events are a great incentive for the Georgian business and helpful to the general business environment. As for my victory, it belongs to the TBC team and I want to thank each of them" - said Mr. Khazaradze
In June 2015, Mamuka Khazaradze, the holder of the title EY Entrepreneur of the Year 2014 Georgia, will be invited to Monte Carlo to present Georgia at the global award ceremony - World Entrepreneur Of The Year® and compete for the title of the world's best entrepreneur.