Donors visit Georgia to support social entrepreneurship
Tuesday, November 18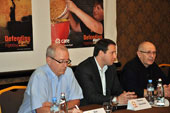 International humanitarian organisation CARE USA executive team members are visiting Georgia to familiarize themselves with the development issues of the South Caucasus and support social entrepreneurship in the region.
The experts believed too many of Georgia's rural population faced poverty, injustice and other development problems, and one emerging approach to these challenges was social entrepreneurship.
Social investor and Board member of CARE Enterprises Martha Finn Brooks was among the CARE representatives who have invested in social enterprises for more than 10 years.
Brooks was confident that Georgia's economy was "growing quickly" and expressed hope that a little additional capital would improve the rural population's quality of life, particularly women, and strengthen the broader society.
"We know from our great experience that women's economic participation changes everything for her family and the community. Women in Georgia are facing difficulties and giving some opportunities to begin business changes their lives," Brooks said at yesterday's press conference where the program was presented to media.