Abashidze-Karasin meeting to be held at later date
By Ana Robakidze
Wednesday, December 3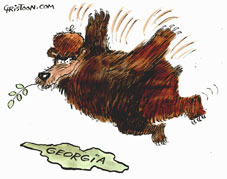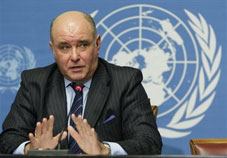 Georgia managed to maintain a negotiation channel with Russia. Following the treaty on alliance and strategic partnership signed between Russia and Georgia's break-away region of Abkhazia, many politicians have been requesting the termination of talks with Moscow. However, the government insisted on keeping both formats of the negotiations, Geneva talks and the so-called, Abashidze-Karasin format (meeting of Georgian-Russian special envoys) usually held every three months in Prague.
"The Abashidze-Karasin talks are a very important format. Considering the absence of diplomatic relations between Georgia and Russia, there should exist at least some dialogue between the sides," State Minister of Reconciliation Paata Zakareishvili said after the cabinet meeting on December 2.
The Prime Minister's special representative for Russia-Georgia relations Zurab Abashidze confirmed that he will continue his regular meetings with Russian Deputy-Foreign Minister Gregori Karasin.
"We maintain the format and therefore our communication will continue, though our next meeting has not been planned yet," Abashidze stated.
"The normalization (of Georgia-Russian relations) will continue in the areas where it is possible. We, together with Georgian representatives, are thinking about how to work further," Karasin told the Russia media agency RIA Novosti. He said the parties will start planning the next meeting in Prague sometime in the beginning of 2015.
According to Foreign Minister Tamar Beruchashvili, Georgia cannot be an exception for the rest of the world, where dialogue is considered to be the only way for regulating relations with Russia.
"We maintain diplomatic and communication channels," Beruchashvili said.