Kublashvili to leave the Supreme Court in February
By Ana Robakidze
Tuesday, December 30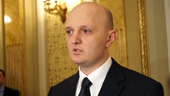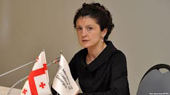 The new chairman of the Supreme Court will inherit the judicial system free from any influence, the Chairman of the Supreme Court Konstantine Kublashvili said on December 29.
Speaking at a special press conference, Kublashvili, whose term as head of the judicial system is soon to expire, summarized his work of the last 10 years and said the court has undergone great changes but the system still has some drawbacks.
"Politicians often say that the court is independent. I agree with this assessment, but some minor shortcomings remain, which does not allow me to say that the court is fully independent,'' Kublashvili said.
Kublashvili emphasized the positive outcome of the amendments in the law which turned the high council of justice into the administrative body and established the lifetime appointment of judges.
"My successor will inherit a corruption-free system, and of course he has to maintain it. Otherwise, everything we have done so far and every amendment we have carried out will become pointless." Kublashvili said.
One of the issues the chairman believes his successor will have to address urgently is the existing three-year probationary period for judges, which Kublashvili believes is one of the flaws of the system.
Kublahsvili will have to leave his cabinet in February, but he is not going to distance himself from the judicial system.
"I have some proposals from abroad, also I can work in the academic field," he said.
President Giorgi Margvelashvili will have to name a new candidate to become a new Chairman of the Supreme Court in the nearest future. However, the law does not set a deadline for him. Speaking to one of the Georgian TV channels the president said he will make a decision based on the professionalism and independence of the nominees.