Tbilisi Metro and Rike cable cars will be free for New Year's Eve and Christmas
Tuesday, December 30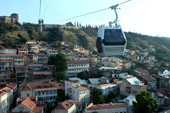 Tbilisi Metro and Rike cable cars will serve passengers free of charge on nights of the New Year and Christmas.
According to Paata Jachvliani, Head of the Tbilisi City Transport Service, Tbilisi Metro will extend its hours of operation from 24:00 of December 31 till 04:30 of January 1 as well as from 24:00 of the 6th of January till 04:30 on the 7th of January.
Passengers will be able to enjoy free travel from 23:00 till 04:30 on the aforementioned days.
As for the Rike ropeway, it will allow passengers to travel free of charge from 23:00 of the 31st of December till 03:00 on the 1st of January.
(IPN)