Georgia to receive EURO 44.5 million for implementation of the DCFTA
By Ana Robakidze
Monday, January 19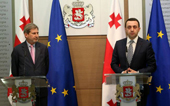 Johannes Hahn says the European Union supports economic opportunities for Georgian citizens and the country's business, especially small and medium should benefit from EU regional initiatives.
"Small and medium businesses are the backbone of the country, as they provide significant opportunities for creating new jobs. A stronger economy is vital for promoting the welfare of citizens," the EU Commissioner for European Neighbourhood and Enlargement Negotiations said, speaking at a press conference in Tbilisi.
Hahn paid his first official visit to Georgia January 15-16 to support the implementation of the EU-Georgia Association Agreement and to discuss the Eastern Partnership Summit in Riga, as well as the forthcoming review of the European Neighborhood Policy.
The EU commissioner met with Prime Minister Irakli Gharibashvili. According to the PM's press office at the meeting, special attention was paid to Russia's destructive policy, the signing of the treaty on alliance and integration with Abkhazia, and Moscow's intention to sign a similar agreement with the Tskhinvali de-facto government.
The two signed a Financing Agreement for a new program to help Georgia implement the Deep and Comprehensive Free Trade Area (DCFTA) and promote the private sector development.
The new three-year program is worth ˆ44.5 million and will assist the Georgian government in the implementation of the DCFTA.
"This new program is a clear signal of the EU's determination to support Georgia in the implementation of the Association Agreement and the DCFTA, which will facilitate Georgia's economic integration into the EU market. Georgia has rightly recognized the need to promote small businesses as a way to foster a sustainable economic development and inclusive economic growth. We respond to this need with a facility for SMEs which will complement the new DCFTA program and which is designed to meet the specific requirements of small and medium businesses," Commissioner Hahn said.
During his visit, Commissioner Hahn met President Giorgi Margvelashvili, Foreign Minister Tamar Beruchashvili, Parliament Speaker Davit Usupashvili, as well as opposition and civil society representatives. He also visited Patriarch of Georgia Illia II in his residence and delivered a speech at Ilia State University in Tbilisi.
Speaking at the university, Commissioner Han said that visa liberalization with Georgia is one of the EU's goals, but there are certain conditions to be met from both sides.
"I can only confirm that the Georgian government is not only committed to it, but is really working hard to fulfill the necessary conditions," he said.
According to Foreign Minister Tamar Beruchashvili, the Georgian government is working hard to secure the European Commission's positive recommendation over visa liberalization by the upcoming Riga Summit.