Turkish Airlines controls 22% of Georgian aviation market
Monday, January 19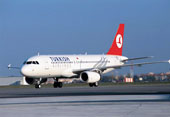 The leader of the Georgian aviation market is the Turkish Airlines.
Turkish Airlines is in the lead on the Georgian aviation market in 2014 as in previous years, the civil aviation agency's statistics says.
As of 2014, the airline controls 22 percent of the market. The matter rests in the number of passengers transported by regular flights. Airzena national airline ranks second. It covered 11 percent of the market in 2014.
Airzena is followed by "Ukraine International Airlines" with 10 percent, 'Pegasus' - 9 percent of the market and 5 percent - "Siberia".
As for the market distribution statistics among local and foreign players, around 11 percent accounts for the local airlines, while 89 percent – foreign airlines.
(Trend.az)