The Gyumri tragedy: putting Armenian tolerance to a test
By Messenger Staff
Monday, January 19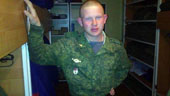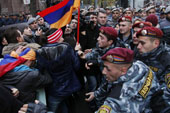 The world was shocked by the tragedy that transpired in the Armenian town Gyumri in January 2015. A serviceman from the local Russian military base, which is stationed in Gyumri, killed a family of 6, and wounded a 6 month-old baby, who miraculously survived and is still fighting for his life at the local hospital. After the massacre of the Avetisian family, soldier Valery Permyakov tried to flee the country, but was caught at the Armenian-Turkish border.
The Armenian people, who are outraged by the tragedy, insist that Permyakov be forwarded to the Armenian side for his trial. Russian military base officials meanwhile keep the soldier under their jurisdiction and plan to try him in a Russian court. This has resulted discord between the two countries. Armenians have been protesting for several days now, and there have been clashes with the police as well, causing injuries to dozens of people. Many were detained with charges of hooliganism and police resistance.
The number of Armenians insisting on the removal of the Russian base from their country increases daily. However, a major demand is to keep Permyakov accountable for his crime according to Armenian law. Armenian officials are trying to maintain a balance and calm the situation. Officials state that the tragedy should not become a reason for starting movements against Russia and its military base, as Permyakov has been shown to have clear mental problems.
This incident should not become the reason of confrontation between Russia and Armenia, state officials claim. They suspect that in the case the incident grows into a big confrontation, it looks like everything was planned.
Armenia's Ombudsman Larisa Alaverdian says the unsteady relations between Russia and Armenia is in the interests of Turkey and Azerbaijan.
NATO special envoy in the South Caucasus and Central Asia, James Appathurai believes first of all that Gyumri became a witness to a great human tragedy and secondly, the government of Armenia will find the appropriate way out of this difficult situation.
Unfortunately, a similar incident took place in Armenia in 1998, when four servicemen, from the same Russian military base, while they were under the influence of alcohol, started a fight with an Armenian at a local market. The soldiers who were armed, started a fire, killing 8 and leaving 6 Armenians wounded.