The Head of Lithuanian Government visits Tbilisi
By Ana Robakidze
Tuesday, January 27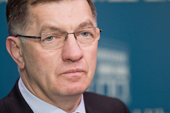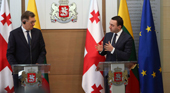 The Head of the Lithuanian Government Algirdas Butkevicius, says Russian aggression in Georgia and in Ukraine has been a "wake up call" for the international community. Speaking at the press conference held after his meeting with Georgian Prime Minister Irakli Gharibashvili,
Butkevicius said Euro-Atlantic integration is vital for Georgia.
The Lithuanian PM started his official visit in Georgia on January 26. He held his first meeting with PM Gharibashvili. The parties discussed the situation in the occupied territories of Georgia, security issues, as well as the upcoming Eastern partnership summit and economic partnership between the two states.
"Taking into account the realities in the region, the support of the EU and the international community is crucial for us today," Gharibashvili said after the meeting. According to the PM, the government's main task is to achieve concrete results at the Eastern Partnership Summit in Riga and to prove Georgia can be a reliable partner of the European Union.
The Lithuanian PM also spoke about establishing stronger economic ties between the two countries.
Butkevicius said that Lithuanian businessmen are ready to conduct business with their Georgian counterparts.
"Aside from political and economic relations, the ongoing cooperation between our countries in defense, safety, agriculture, education, culture and other fields is exemplary. At the same time, Georgia is in the priority list of countries, and Lithuania intends to cooperate within its development cooperation plan" Garibashvili said at the press conference. He emphasized the increase in the number of Lithuanian tourists, as well as the trade turnover between the two countries.
According to Butkevicius, there are a number of Lithuanian companies that are interested in investing in Georgia. Also the countries are preparing an agreement on bilateral economic cooperation, and the parties plan to set up an intergovernmental commission to deal with economic relations.
Butkevicius has a meeting planned with representatives of the Baltic Business Association in Georgia and plans to visit the field office of the EU Monitoring Mission (EUMM) in Mtskheta and to participate in the Georgian-Lithuanian business forum. He will leave Tbilisi on January 27th.