Georgia's national currency rate to become stable
Tuesday, January 27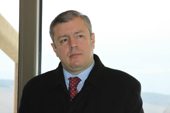 Georgian Economy Minister Giorgi Kvirikashvili says that the Georgian Lari is stabilizing.
Government representatives set the future directions and plans regarding Lari stabilization at the meeting with Head of National Bank of Georgia on January 25.
"The Georgian government has a complex plans about how to encourage export and tourism in the future. Also, we plan to take significant steps in terms of attracting more foreign direct investments (FDI) in our country. These actions will have very positive results, I believe," Kvirikashvili said.
During the last weeks Lari has depreciated sharply against the dollar. The official rate is 1.99 GEL to the dollar, but at exchange booths it exceeds 2.00 GEL.
The Lari has fallen to its lowest level since April 2004.
(Agenda.ge)