Ceasefire to begin in eastern Ukraine on February 15
By Ana Robakidze
Friday, February 13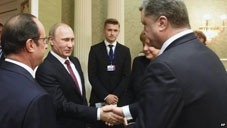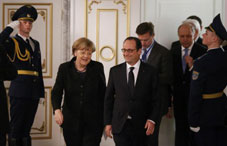 The leaders of Russia, Ukraine, Germany and France concluded the overnight talks in Minsk, and announced that a ceasefire would begin in eastern Ukraine on February 15.
"We have managed to agree on the main issues," Russian President Vladimir Putin said speaking to reporters after almost 17 hours of talks. The negotiation session in Minsk began early on Wednesday evening and continued into Thursday morning.
"After 17 hours, negotiations in Minsk have finished: a ceasefire from Feb. 15 at zero hours, then withdrawal of heavy weapons. Therein lies hope," German Chancellor Angela Merkel's spokesman Steffen Seibert said on Twitter.
The ceasefire agreement emphasizes the following major points: the ceasefire is to begin on February 15, heavy weapons are to be pulled out, all prisoners are to be released and Ukraine is to establish control of the international border by the end of the year.
According to the leaders of four countries, pro-Russian rebels in eastern Ukraine have signed the agreement. It looks like the agreement is about to put an end to almost a year of hostilities, which took the lives of about 5,000 people.
German and French leaders called on the European Union member states to support the Minsk deal. French President Francois Hollande said the problem is not solved yet, the agreement has been achieved but there is still much work to be done to finally end the Ukrainian crisis.
Apart from the ceasefire agreement Ukraine is about to receive a funding package from the International Monetary Fund (IMF), which has agreed to provide 40 billion USD to save Ukraine from bankruptcy.
IMF director Christine Lagarde announced as a part of a financial package that Ukraine will first receive $17.5 billion USD over four years to support economic reform in the country.
"Over the past year, despite the challenging environment, the Ukrainian authorities have clearly shown their commitment to ambitious reform on several key fronts… This new program offers an important opportunity for Ukraine to move its economy forward at a critical moment in the country's history," Lagarde said in a statement. She also mentioned that the Ukrainian economy is subject to high risks considering the recent geopolitical developments.
Russia has been denying accusations that its forces are directly involved in hostilities in Ukraine and has been supplying pro-Russian rebels with weapons. However, the West had no doubt that Moscow has been backing rebels in eastern Ukraine. Whether the ceasefire agreement works or not highly depends on Russia and its foreign policy, which has always been unpredictable. Moscow is known to be unreliable when it comes to fulfilling international commitments.