Committee chairmen from Free Democrats to be replaced by GD members
By Ana Robakidze
Monday, March 30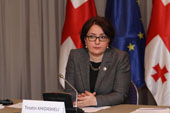 Four committees in the Georgian parliament will have new heads appointed in the near future. Members of the Free Democrats party who led the committees will be replaced by their counterparts from the Georgian Dream.
Victor Dolidze, now the former chairman of the Committee on European Integration, was not going to resign, but in the end, changed his mind and resigned. According to the final decision of the Georgian Dream, Dolidze will soon be replaced by MP Tina Khidasheli.
Social Democrat Gia Jorjoliani will replace Gia Tsagareishvili, and take the position of the Chairman of the Environment Protection Committee; MP Tamaz Mechiauri will lead the Budget and Finance Committee, and majoritarian MP Temur Chkuaseli will become head of the Committee on Diaspora and Caucasus Issues.
Before finally deciding on the new chairman of the committees, the Georgian Dream coalition held consultation with Prime Minister Irakli Gharibashvili.
"Environmental protection has become an issue of political importance considering the latest global economic situation," Jorjoliani said, while speaking to Maestro TV on his future plans as ahead of the committee. He said climate change has become a great threat, and Georgia cannot stand aside. Jorjoliani spoke about the controversy surrounding the construction of the large Khudoni hydropower plant in the Svaneti region. The MP said that every project should be evaluated comprehensively to make sure it does not intervene in the normal life of the locals.
Speaking to Maestro TV, Temur Chkuaseli said his committee, together with the government, will start working on a joint strategy to identify the major problems of the Georgian Diaspora and the methods of handling these issues. Chkuaseli said the major problem that Georgian emigrants face is that it is very hard for them to have dual citizenship, as receiving Georgian citizenship is a very complicated procedure.
The Free Democrats left the Georgian Dream coalition and moved to the opposition a few months ago. The parliamentary majority say that the Free Democrats cannot keep the position of the committees' chairmen.