Trans-Caspian pipeline: statements turn into action
Monday, March 30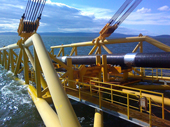 The European Union (EU) over the past month has clearly demonstrated the seriousness of its intentions regarding the implementation of the Trans-Caspian pipeline, which will allow Turkmen gas to access the European market.
At present, the EU's interest in this project is expressed not only in words but is also backed up by concrete actions, which give hope for positive expectations.
A month after the statements regarding the plans of the EU to sign this year the agreements with Azerbaijan and Turkmenistan, Brussels began searching for opportunities to attract European companies to negotiations on the Trans-Caspian pipeline.
In particular, according to Reuters, EU Charge d'affaires in Turkmenistan, Denis Daniilidis said the EU is studying the conditions under which European companies interested in buying Turkmen gas could be involved in this project.
In addition, in the coming months, Vice-President of the European Commission for Energy Union Maros Sefcovic is expected to visit Turkmenistan for talks on the Trans-Caspian gas pipeline.
Among the companies considered to be interested in this project are BP, Statoil, Total and others who have good working experience in Azerbaijan, as well as RWE and Eni, which have agreements with Turkmenistan on exploration in the Turkmen sector of the Caspian Sea with the perspective of purchasing gas.
The concept of the Trans-Caspian pipeline has always been very attractive for the EU, Azerbaijan, which is acting in the project as a transit country, and Turkmenistan, which intends to diversify its export routes.
However, this project, for a very long time, has remained just a pretty dream, for the implementation of which a number of political issues had to be solved. And all this time the European Union, although it wanted, but did not feel the urgent need to take any action to implement it.
But today, amid the background of the Ukrainian crisis, and after the failure of the Russian South Stream project, the EU faced a real threat to its energy security. Therefore, alternative supplies of hydrocarbons has become a priority for the EU.
In addition, an important factor for increased efforts to implement the EU Trans-Caspian pipeline is successful progress Southern Gas Corridor, which envisages the delivery of Azerbaijani gas to Europe. This is the gas that would become the first alternative supply source for the EU.
Implementation of the Southern Gas Corridor is in accordance with the established timetable, last week laid the foundation of the Trans pipeline (TANAP), which will be provided for transportation of gas from Azerbaijani Shah Deniz field from the Georgian-Turkish border to the western border of Turkey.
The supplies of Azerbaijani gas to Europe will begin in 2020. These supplies are envisaged to become only initial for Europe. Right now, there are real prerequisites for joining the Turkmen gas to the Southern Gas Corridor, which will help the EU to ensure its energy security for years to come.
(Trend.az)