Georgia doesn't forecast construction of Khudoni Hydro Power Plant in 2015
Monday, March 30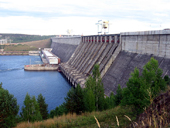 Georgia doesn't forecast the start of building of the Khudoni Hydro Power Plant, said the country's Energy Minister Kakha Kaladze, Georgia-Online reported.
Kaladze told journalists that following the governmental meeting, first the preparatory work must be carried out.
"This is a very big project and some time is needed to prepare the Environmental Impact Assessment, as the normal countries do," he said. "This process will be very transparent. There will be meetings in the ministry of Environmental Protection, with experts and population."
Regarding the construction itself, Kaladze said it is hard to say if it will begin this year, most likely after the preparatory work is done.
Khudoni HPP is a projected power plant on Inguri River, in Samegrelo-Zemo Svaneti, Georgia that has 3 turbines with a nominal capacity of 233.3 MW each having a total capacity of 700 MW.
The power plant is associated with a planned 200.5-metre (658 ft) tall concrete double-arch-gravity dam. According to the Georgian government-commissioned and the World Bank-supported study the construction of Namakhvani, Paravani and Khudoni hydro power plants are the most attractive scenarios for the development of Georgia's energy sector.
(Trenda.az)