Changes in majoritarian system may help with achieving consensus on Constitutional amendments
By Messenger Staff
Monday, March 30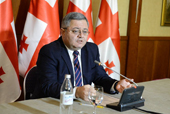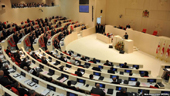 The State Commission on Constitutional Reform held a session on March 28, and agreed to speed-up work on constitutional amendments. However, a political consensus is required to have the planned amendments approved. The opposition requests that the majoritarian system be abolished. The government however says there is no need to abolish majoritarian election, but instead says it can be reformed.
Speaking after the commission session, Parliament Speaker Davit Usupashvili confirmed that there are some problems with the electoral system which are illustrated by the disparity between the single-mandate and majoritarian constituencies.
"One very important issue, which is already becoming an acute one, is related to the electoral system," Usupashvili said. The speaker stated that the commission has to urgently find the appropriate solution in order to balance the electoral system.
"Achieving a political consensus on electoral issues can be the key to making future constitutional amendments," Usupashvili stated.
The parliamentary parties need to agree on the draft of amendments, as changes in the constitution require 113 votes, which is three-fourths of the 150-seat parliament.
Pavle Kublashvili one of the leaders of the United National Movement (UNM), says parties could actually reach a consensus, as all of them agree that there is a serious misbalance between single-mandate and majoritarian constituencies.
"We offer mandates to be spread out based on proportional, as well as regional-proportional representation," Kublashvili said.
One of the leaders of the parliamentary majority Tina Khidasheli, supports regional-proportional representation, as she believes it is the most fair and democratic electoral system.
"Getting rid of the majoritarian system too quickly could be problematic. Our choice is a regional proportional system. We have been talking about it for many years now and I think this system reflects the desire of people living in rural areas to have their own representatives in the parliament and proportional representation as well.
This is the fairest and most democratic system. We have already started consultations," Khidasheli stated.
Georgian political parties could easily agree on reforming the electoral system. However, so far only the Republican Party openly agreed with the opposition to fix the disparity between the single-mandate and majoritarian constituencies. Other member parties of the Georgian Dream coalition have not voiced their opinion yet. Considering that majoritarians usually are the main supporters of the government, it could be hard for the ruling party to agree on decreasing their number in the parliament.