Samegrelo hit hard by strong wind
Tuesday, March 31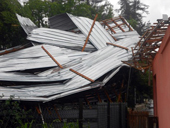 Villages in Georgia's Samegrelo region in the west are being hammered by strong winds on March 30.
Several houses in villages near the Tsalenjikha municipality had their roofs blown off by strong wind.
Tsalenjikha district Governor Goga Gulordava said several roofs had been ripped off from two school buildings and several cars had also been damaged. There were no reports of casualties, he said.
"Several apartment buildings and private houses are damaged in the area. One apartment building has been completely unroofed, while four others are semi-damaged. Seven cars were also damaged by the wind," he said.
Due to the ongoing strong wind in the area, response officials tasked with studying the damage have been forced to postpone their review of the two unroofed schools.
The local government has created a special group to evaluate the damage to property.
"We have not assessed the loss yet and we will expect this data to be available later this evening," Gulordava said.
Furthermore, the strong winds damaged the power lines in several villages in the Tsalenjikha district and trees were also uprooted by the winds.
Meanwhile in other parts of the country temperatures dropped overnight, with capital Tbilisi today experiencing a high of about 4C today, according to the national Monitoring and Forecast Centre.
The weather experts said looking ahead temperatures were expected to rise from tomorrow until Friday before dropping back down on Saturday. The outlook remained mostly drizzly and wet for the entire week, with only snapshots of sun predicted from now until Sunday.
(Agenda.ge)