Push to amend law on occupied territories gains little traction in Georgia
By Messenger Staff
Monday, April 6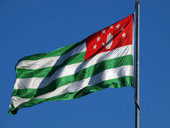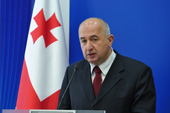 Artur Gagulia, spokesperson for the de-facto Abkhazian ministry of foreign affairs, advises the Georgian government to amend the law on occupied territories. Gagulia believes that the law does not meet even Georgian interests, and hampers negotiations between Georgia and Russia.
The State Minister of Georgia for Reconciliation and Civic Equality Paata Zakareishvili, says the Abkhazian representative once again proved that the law indeed needs to be amended. While the Georgian opposition has another opinion, and says any changes made to the law on occupied regions will be against Georgia's interests.
Georgian law on occupied regions bans entering Abkhazia and South Ossetia without official authorization. Gagulia said it is simply a reality Georgia has to accept, and amend the law accordingly. He even accused the Georgian government in disregarding the Venice Commission recommendations and fundamental freedom of movement and mobility rights.
"It is clear Europe understands how incompatible the Georgian law is with justice, and the negative impact is has on the humanitarian situation in the region."
State Minister Zakareishvili offered to take a look at the issue from an alternative position. He said if Sokhumi requests simplifying the law on occupied territories, this means Abkhazians do acknowledge the existence of this law.
"Statements made by Gagulia are very interesting. It proves that the law exists for them (Abkhazian government) and they deem it to be accountable. I do not think it is alarming when Georgian citizens living in Sokhumi request some amendments in the law," Zakareishvili said, while commenting on Gagualia's statements.
According to Zakareishvili, the Association Agreement (AA) signed between Georgia and the European Union requires the law on occupied territories to be amended. In the case foreign citizens enter Abkhazia or South Ossetia without Tbilisi's' authorization, they will be charged with a criminal offence. The AA requires that the status of the offence be changed from criminal to administrative.
Georgia's opposition strictly disapproves of any changes in the law. Bachuki Kardava, leader of the National Democrats, said that Sokhumi's request to have the law on occupied regions simplified, must be a diplomatic trick. Sokhumi does not recognize Abkhazia as an occupied region. I doubt Sokhumi wants the regulations to be simplified, most probably Abkhazians request the law to be abolished." Kardava said.
State Minister Zakareishvili has been requesting the law amendment procedure to be launched for quite some time now. However, the parliamentary majority does not seem to be planning changes in the law in any time soon.