EU ambassador hopes Georgia will receive positive feedback from the commission
By Ana Robakidze
Thursday, April 30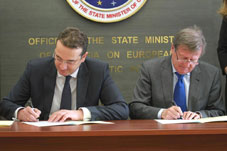 Head of the EU mission to Georgia Janos Herman says it is better to refrain from making preliminary conclusions about the Riga summit. Commenting on the information spread by the Radio Liberty on April 29, where it was said that Georgia, Moldova and Ukraine should not expect much from the summit as the results might turn out to be disappointing, Herman said it is better to wait for the official manifesto which is not even drafted yet.
"It is natural that information is being spread concerning the outcome of the upcoming Riga summit. We are still working on the manifesto. Leaders of the six participant countries and 28 EU member states will meet in Riga and make a final decision on all the issues," Herman said.
Speaking about the Association Agreement (AA) Georgia and EU signed in June 2014, the EU ambassador said the ratification process must be completed by all member states to launch the actual implementation of the agreement.
Speaking about visa liberalization, Herman said Georgia should wait for the EU commission report. The commission is currently studying the efforts country took to meet the EU standards.
"The European Commission will publish a report on Georgia's achievements. As a participant of the process, I can say progress has been huge and I am confident the report will provide positive assessments," EU ambassador said.
The Georgian government is looking forward to the summit, as it believes that it is time for the EU to acknowledge the country's progress by granting its citizens the right for visa-free travel within the EU. However, EU officials have been very careful in assessing Georgia's chances at the summit.
The EU continues to provide Georgia with financial aid. On April 22, the State Minister of Georgia on European and Euro-Atlantic Integration, David Bakradze, and the Ambassador Herman signed an agreement supporting the country to meet specific provisions of the Association Agreement, particularly to improve the environmental legislation and make its institutions more transparent. According to the agreement, Georgia will receive 8 million EUR.